Our 8 Favorite RV Parks in the Carolinas and Virginia! We love to get out and enjoy our beautiful area, and here are some of our favorite campgrounds to stay at in North Carolina, South Carolina, and Virginia. From beach destinations to mountains, we have you covered.
Jump to:
We hope you get an opportunity to check a few of these RV parks out! If you do, please let us know what you think by dropping a comment below. Happy Camping!
Why You'll Love Camping in The Carolinas and Virginia
Now I might be biased because we do live in North Carolina, but these three southern states have a lot to offer - beaches, mountains, scenic drives, national parks, beautiful weather, and friendly people 🙂 Here are some of our favorite things about the area:
The Beaches
While there are many beaches that you can visit, the most popular are Myrtle Beach, Hilton Head, Virginia Beach, and the Outer Banks.
Myrtle Beach and Virginia Beach are bustling beach towns jam-packed with family-friendly activities of all kinds. Here are more recommendations for RV camping in Myrtle Beach.
Hilton Head is a beautiful upscale community known for golfing, tennis, and a plethora of outdoor activities. It's nicely situated between Charleston, SC, and Savanah, GA, so you can also take day trips to see these historic cities.
The Outer Banks are known for their remoteness and outdoor beauty but still have many things to do and see to keep the family busy.
National Parks
There are many ways to experience the National Parks, from scenic drives, hiking, picnicking, boating, and fishing.
Smoky Mountains National Park straddles the Tennessee and North Carolina border. There are multiple entrances into the park. You can get to the park within an hour's drive from Asheville. We love accessing the park via the Blue Ridge Parkway. We make it a day and go hiking and take a picnic!
Shenandoah National Park in the Appalachian Mountains of Virginia. Our favorite is Skyline driving and hiking the Appalachian Trail.
Congaree National Park is in the floodplain of central South Carolina. Hiking and kayaking are the most popular activity at Congaree. We highly recommend kayaking through the park! See the National Park website for more information.
Scenic Drives
If you are into scenic drives these are some of the most beautiful in the country! It would be a challenge to see these in one trip. We usually choose to do smaller sections and combine it with some hiking and stops at some of the historical sites.
The Blue Ridge Parkway is a National Parkway with 469 miles of scenic driving through the Appalachian mountains between North Carolina and Virginia. The drive links both the Smoky Mountain National Park and Shenandoah National Park.
Skyline Drive is another gorgeous National Scenic Byway running through the entire Shenandoah National Park.
Coastal Hwy Route 17 runs from Virginia to Florida, and you'll visit a multitude of historic sites and cities, as well as encounter scenic beauty and coastal countryside.
Why We Love These RV Parks
Our family is addicted to RV'ing. Discovering new places and experiences across this great country is something we think everyone should get a chance to do during their lifetime. We live in North Carolina and are fortunate to have some of the most beautiful areas in the country - in our backyard.
Through trial and error, and recommendations from other trusted RV'ers, these are our 8 favorite RV friendly campgrounds in North Carolina, South Carolina, and Virginia.
We were not compensated in any way to write this post or make any campground recommendations. We give our honest opinions only! 🙂
RV Parks in North Carolina
Stone Mountain State Park, NC
Yes, there is a Stone Mountain in NC. People often get confused and think it is the one in Georgia. Nope. There are two! 🙂
Stone Mountain State Park is a beautiful 14,000-acre park in North Carolina, not far from the Blue Ridge Parkway. There are many outdoor activities that you can do - hiking (easy and hard trails), climbing, fly fishing, horseback riding, and more.
The campground itself is also very picturesque. It is well maintained, clean, and has generously sized sites. Not all sites have full hookups, so verify before reserving.
July is a very popular camping month, so you need to reserve well in advance. Fall is a great time to visit the park because of the beautiful scenery when the leaves turn.
For more information: see Stone Mountain State Park. Also, Campsitephotos.com has pictures of all the sites.
New Bern KOA, New Bern
The New Bern KOA is a highly rated campground situated on the Neuse River banks in eastern North Carolina. As with many KOA's, there are many family activities and things to do within the campground itself.
This campground has lots of shady spots and a few that have a great view of the river. They also have a pool, a stocked fishing pond, a playground, and a pier.
The campground is also located near many historical areas and the Croatan National Forest which offers great hiking.
The historic riverfront town of New Bern is also close by, which has shopping, parks, fishing charters, historical tours, and best of all, great dining options if you're not in the mood to cook.
For more information: New Bern KOA
Mountain Stream RV Park, Marion
Most of the sites at Mountain Stream RV Park are perfectly situated along a beautiful creek. People fly fish for trout right from the creek behind their campsite. There is a stocked fish pond a few miles up the road (great for kids). Talk about convenience! The sites are level, clean, and the staff is super friendly.
The campground road is a bit curvy and tight but was still manageable with our 40' class A.
There is a fenced-in dog park, but there is no dedicated playground for kids. Most kids were playing in the creek, riding bikes, or tossing balls in the common area. The proximity to the Blue Ridge Parkway and all it offers makes this a great location for a weekend family getaway.
Don't miss Kevin's applewood smoked barbecue on Saturday! Every Saturday, the owner smokes up pork butts, and everyone is welcome to a fantastic pulled pork sandwich (at no charge). Campers are encouraged to bring a side to share with their neighbors.
For more information: Mountain Stream RV Park
Cape Hatteras KOA, Rodanthe
Located in Rodanthe in the Outer Banks, you are a stone's throw away from the beach on both the sound and the Atlantic. The Outer Banks is remote, so it does take a little longer to get to this location; however, the time spent getting there is worth it.
This KOA has a lot of activities, which is great for kids and adults alike. The pool is great, and we love that they have a poolside cafe, so there is food onsite if you don't feel like cooking. During the summer, they have live music, movie nights, and other planned events. You can also rent paddleboards, bikes, or kayaks on site.
For more information: Cape Hatteras KOA.
RV Parks in South Carolina
Hilton Head Harbor RV Resort and Marina, Hilton Head
Hilton Head Harbor RV Resort and Marina are easy to get to as it is on the island's northern side.
Most of the sites are heavily shaded and beautifully landscaped - and level. The resort itself is very clean, and the amenities include 2 pools, tennis courts, a playground, a restaurant, and water sports rentals (kayaks, jet skis, paddleboards, etc.).
The rest of Hilton Head, including shopping, restaurants, golf, and the beaches on the Atlantic side, are within an easy drive.
For more information: Hilton Head Harbor RV Resort and Marina
Ocean Lakes Family Campground, Myrtle Beach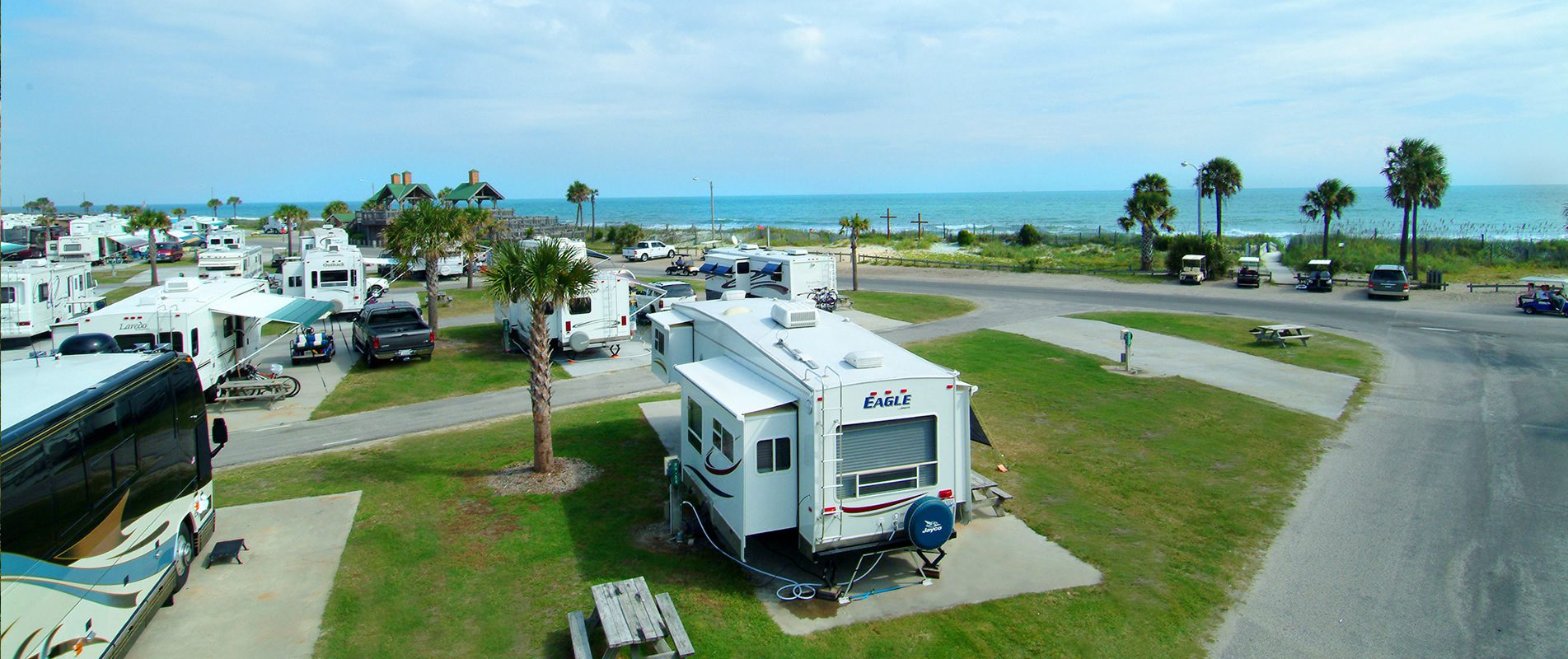 This is a large resort in a great location at Myrtle Beach. It not only has RV and tent sites but vacation home rentals as well.
The draw to this resort is the mind-boggling amount of things to do and the fact that it is right on the beach. The sites tend to be close together, but the draw is the activities and beach.
There is a water park, fantastic pools, several restaurants, an ice cream shop, bike rentals, golf cart rentals, planned activities, volleyball and basketball courts, a mini-golf course, and much more.
If you stay over Halloween as we did, they have trick-or-treating at all the campsites. They also had face painting, a campsite decoration contest, and a Halloween ball. Kids of all ages will never be bored at this resort.
For more information: Ocean Lakes Family Campground
RV Parks in Virginia
Fries New River RV Park, Fries
This is a beautiful RV park near the New River. The park is super clean, and the owners are some of the friendliest we have ever had the pleasure of dealing with. We loved the proximity to the New River Trail.
You can literally get on the trail from the RV park. This is so convenient. When traveling to this campground, follow the owner's instructions, do not follow your GPS to get to this campground. Also, there are no campfires allowed here. You can bring your gas fire pit, however.
For those of you who aren't familiar with the area, the New River Trail is a former rail line that has been removed and turned into a bike, horse, and walking trail. It is very scenic and mostly flat. It is a very enjoyable outing with the family! The proximity to the river also means great fishing.
For more information: Fries New River RV Park
Fancy Gap KOA, Fancy Gap
The Fancy Gap KOA is conveniently located near a Blue Ridge Parkway entrance. It is also an easy drive to get from the highway to the park.
The campground is immaculate, and the sites are level - even if the campground itself is hilly. There are activities for kids like gem mining and a wagon ride. They also offer BBQ on Friday evenings, and they make and deliver pizza right to your campsite.
There a few really unique sites that each have their own fenced-in dog area. This is something we've never seen before at an RV resort - a pet-friendly fenced in the back yard. You can let your pets off-leash in your own site. Very cool.
For more information: Fancy Gap KOA
Related Content
If you're looking for more campground ideas and are planning a trip to these areas we've got some great ideas for you!
We'd Love To Hear From You
We'd LOVE for you to help us share this post! Here's how:
SHARE YOUR COMMENTS BELOW
We love your comments - say hello, or leave any questions and comments below!
FOLLOW US ON FACEBOOK
Show your RV's, travel photos, food photos, and favorite campgrounds! We'd LOVE to see them!
PIN OUR PIN
Share our pin and pin on Pinterest!
Our 8 favorite RV parks in North Carolina, South Carolina, and Virginia. We love to get out and enjoy our beautiful area and here are our favorite places! From beach campgrounds to RV parks in the mountains. Beautiful RV campgrounds in North Carolina and South Carolina that are open all year. Virginia campgrounds in the mountains that you will love. Whether it be a campground at the beach or in the mountains, your whole family will love these family-friendly RV Campgrounds.